---
Important events happen all the time, but the truly life-changing moments are few and far between. As I laid my eyes on my son, I knew then I'd remember the moment forever. I promised myself to at least be the best provider I could be. A lot of my decisions have been because of him, and COL ITF is another step to keeping that promise. 
A COL ITF account is better than a kiddie savings account for growing your child's money. The compounding from stocks is superior, it's free from inheritance taxes, and it teaches them about risks early on. The lessons learned from investing, by themselves, are worth the effort. 
(A kiddie savings account teaches other valuable lessons though. It's good to have both, but set up the COL ITF first and take full advantage of compounding.)
What is ITF in COL Financial?
ITF stands for "In-Trust-For" and is a tag applied to COL Financial accounts. The tagging signifies holding the account in trust for a beneficiary — where the beneficiary is your child. In other words, it acts like a regular stock brokerage account, except the beneficiary is your child and he/she gets a hold of the account when they turn 18. 
(The ITF tag is also available in other brokerages like BPI Trade. I'm writing about the COL ITF account because it's where we have ours.)
Don't expect to see your child's name on the account certification though. It'll be something like "Dan Dima-ala ITF." The account is legally owned by the parent/guardian until the beneficiary's age of majority. 
I say it's a better vehicle for funding your child's future because monthly savings in a bank are rarely sufficient. 
(Related: Monthly Savings Will NOT Lead to Financial Freedom)
---
---
Why is a COL ITF account better than a kiddie savings account?
Most of us know about the negligible returns from savings accounts — and virtually every kiddie account is the same. The "best rates" change all the time and they're never going to beat inflation. You're essentially losing purchasing power by holding it in a kiddie savings account. 
The real benefit of a savings account is the discipline that it teaches. But even that can be achieved with a stock brokerage account. (Do younger kids really need the liquidity of a savings account? I don't know. So maybe have both when they're a little older.)
Compounding returns
Stocks consistently outperform alternatives over long periods. Using the available data from February 1987 to February 2021, the annualized return for the PSEi (the Philippine Stock Exchange Index) was estimated to be around 7.88% despite the Asian Financial Crisis, Global, Financial Crisis, and COVID. 
This increases to around 8.62% up to 2019, pre-COVID. With an adjusted Buffett Indicator approach, it's even possible to earn 19% p.a. as this backtest shows.
That's around 8% returns for stocks and less than 1% interest for a savings account. 
How much more can you earn from a stock account vs. a savings account? 
Now, historical returns aren't an indicator of future performance, but let's assume your stock holdings continue to earn 8%. 
If you save 5,000 pesos a month at the assumed 8% return, the future value your child receives in 18 years amounts to around 2.3 million pesos. 
(FYI, 5,000 pesos a month over 216 months, or 18 years, is 1.08 million pesos.)
Learning about risks
Another great lesson from investing in the stock market is the understanding of risks. When they're old enough, have them observe their COL ITF account. Let them see how their investments go up and down through cycles and different market sentiments — justified or not. 
Hopefully, over time they'll learn to understand the risks that come with investing and life, in general. The high-risk high-return lesson is all around us, from basketball and marathons to education and politics. Learning this concept early is an invaluable lesson.
(Related: The Risk and Return Trade-off Applied in Real Life (Uncommon Examples))
Best way to grow a COL ITF account?
Managing a stock brokerage account can be intimidating for starters. But it's actually only as complicated as you make it. In fact, the easier "passive" method has consistently been found to outperform an actively managed fund by professional investors. Why wouldn't you want an option that's both easier and performs better, right?
This method is called index fund investing — an index is like a basket of stocks. It's a method that's supported by large figures such as Warren Buffett and there have been a lot of studies on the merits of index fund investing. 
(Related: Make Money Trading Stocks? The Advice You Didn't Want to Hear)
In the Philippines, investing in an index fund that tracks the Philippine Stock Market can be in the form of Mutual Funds, UITFs, and an ETF called the FMETF.
FMETF is all you need
Should you join subscription services that sell stock recommendations?
You do not need to join these subscription services. Because numerous studies have found that, net of fees, actively managed funds fail to beat the performance of an index fund on a consistent basis, selling stock-picking advice fails on two facets. (1) The combination of recommended stocks is unlikely going to beat the market/the index, and (2) your gains also have to cover the subscription costs of your preferred service provider. 
The best route is to either begin and end with an index fund or begin with an index fund and add specific stocks in industries you feel particularly aggressive about. For most people though, the simple index fund route works best. 
Due to their low management fees, the best index fund that tracks the Philippine Stock Exchange is the FMETF. You can read more about it here: FMETF: The Smart Way of Investing in the PSE Stock Market
Avoid the subscription fees and invest regularly in the FMETF.
(Related: Peso-Cost Averaging Advanced Guide: Know if It Works for You)
Should you follow the 8k Rule when investing?
A common rule-of-thumb that's thrown around is the 8k Rule that says "only buy when you can invest 8,000 pesos." To me, this rule is misused by some long-term investors. (And your kid's COL ITF account should have a long time horizon.)
I've found that as long as you expect the stock market to earn at least 7% p.a., then it makes sense to invest now, even if it doesn't meet the 8,000 pesos criterion. I mean, if you can allot 8,000, then that's even better. But it isn't necessary. You may read more about it here: The 8k Rule is Misused: New 7% Rule for PSE Stock Market Investing
How to open a COL Financial account
I opened my son's ITF account last week (end of July 2021) and the process has never been easier. No need to leave the house. Every step is done online.
Step 1: Select "Open an Account"
Go to COL Financial's website and select "Open an Account."

Step 2: Select "Sign Up"
An ITF account will require your child's birth certificate. Other than that, the requirements are essentially the same when you open a bank account. 
Parent's valid government ID (e.g., passport)
Blank sheet of paper for your signature
Birth certificate of your child (image format; their app apparently doesn't accept PDF files)
Parent's video selfie (look side to side for a few seconds)
Child's selfie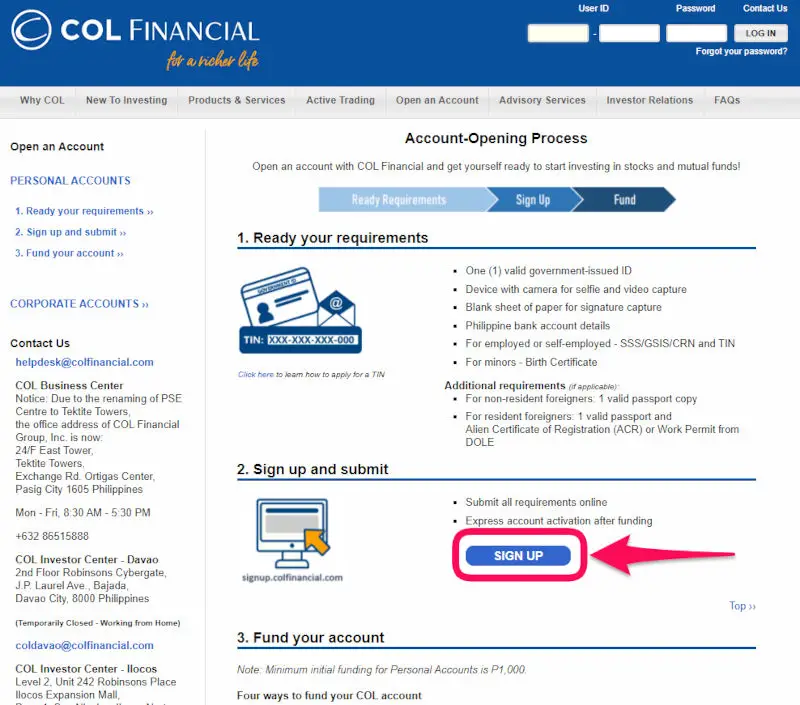 Step 3: Follow the on-screen instructions
This step is where you upload all the documents and fill out the required details. There is a cap to the number of applications per day, but nothing to be worried about. Should you need to finish the online application at a different time, a link to complete this form is also sent to your email.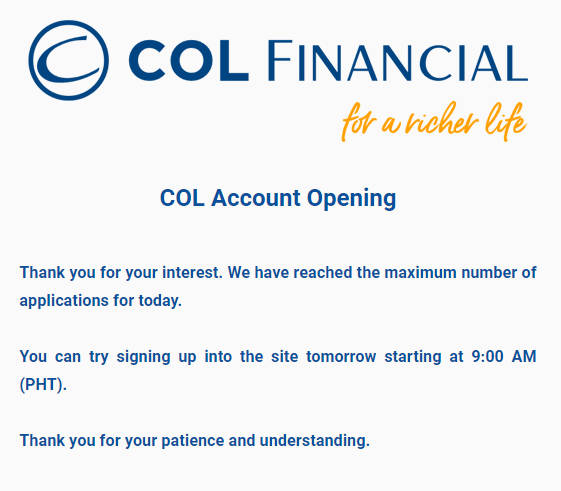 Step 4: Fund the account
COL Financial will send you an email when your account is ready to be funded. The email will include your 8-digit COL Account Number as well as additional payment instructions. The minimum funding amount is 1,000 pesos. 
  Merchant/Company: COL Financial Group, Inc.
  Reference/Subscriber number: Your 8-digit COL Account Number
How do you fund your account? Refer to this complete guide by COL Financial (link to their PDF). Your options include internet banking, mobile app banking, phone banking, and over-the-counter. Here's a screenshot from the PDF link above.

Step 5: Change your password
After funding your account, wait for an acknowledgment email from COL Financial with your temporary password. Change this password and that's it!
(The funding is for your account's cash balance. Once you've funded the account, don't forget to buy your investments — FMETF as mentioned above.)
---
---
An incredible 18th birthday gift
Every parent should take advantage of compounding for their kid's future. Even with what seems to be a per-decade market crash, the long time horizon seems capable of sustaining good returns. The availability of a cheap index fund like the FMETF ensures stock investing is accessible to everyone — there's no need to pick specific stocks. 
I haven't even mentioned how your child doesn't have to sell when he/she turns 18. They can choose to keep it invested and compound for another decade. I can't think of a better gift to jumpstart their financial freedom aspirations. A disciplined investing mind and the money to boot. What a way to start adulting! 
---
---
---