---
The PSE accounts for around 0.29% of the world's market capitalization, and this justifies investing globally. If you're heavy on Philippine stocks, then buying US stocks is a quick and easy way to diversify your equity exposure. And we know how proper diversification improves your returns-to-risk ratio. But what is the best way to invest in US stocks from the Philippines? 
Although perhaps a bit complex for beginners, Interactive Brokers is the gold standard for investing in US stocks from the Philippines. The wide range of products and markets, low fees, and company stability make them the top choice. By contrast, GoTrade and eToro are convenient, easy-to-use, but fairly new alternatives to consider. 
There are other stable alternatives such as TD Ameritrade and Tradestation. There are also other convenient options such as local Mutual Funds or your bank's UITFs. All these options lie on spectrums though, and it makes sense to take full advantage of their strengths by choosing one end of the spectrum rather than going halfway with other alternatives. That abstract concept hopefully becomes clearer when we talk about each platform's pros and cons.
(This isn't an in-depth review of each platform. Instead, it's a comparison of your choices if you want to buy US stocks from the Philippines, as well as a summary of my recommendations.)
(Related: Asset Allocation for Filipinos: A Global Portfolio Overview)
---
---
Summary of results
I've classified the 5 options mentioned into 2 general buckets based on their best use case. 
One bucket is for the beginning investors who prefer an easy-to-understand platform. They want a simple solution, period. These options include the following:
Pooled funds (e.g., Mutual Funds, UITFs)
Say what you want about the newer platforms, they have certainly lowered the costs of investing as established brokers compete by waiving fees, lowering commissions, and removing required balances. 
The other bucket is for investors who prefer to optimize their investments and don't mind a bit of complexity and inconvenience. These options include:
Can you invest directly in US stocks?
Absolutely. Except for pooled funds, all options on this list allow you to invest directly in US stocks. 
Rating system explained
I rated each platform based on four (4) criteria: Convenience, ease-of-use, long-term stability, and availability of products and services 
Each criterion is given a relatively poor, fair, or excellent rating. This means poor ratings don't necessarily mean they're something to avoid, but rather they're the worst of the group. For example, a poor rating for GoTrade's long-term stability doesn't mean they're unstable and ready to collapse. But relative to the group, GoTrade is the new kid.
Or how a poor rating for Interactive Brokers' ease-of-use doesn't mean it's impossibly difficult. Platforms such as GoTrade are just incredibly easy to use and they make Interactive Brokers seem complex. 
Convenience
Convenience refers to the ease of funding your account. 
Because you will be trading US stocks, you're likely going to need US dollars. Not for all platforms though, as there are Peso-denominated UITFs to choose from. These are consequently rated as the most convenient options. Other platforms embed their fees through exchange rate differences. While forex fees are added costs, the seamless process makes them convenient. 
I am also assuming you're the average Filipino with no US bank account. If you do have a US bank account that's regularly funded, then you certainly have a convincing reason to go with the larger "inconvenient" brokers mentioned later.
Ease-of-use
Ease-of-use refers to the user interface of the platform. 
Newer platforms tend to be easier to use. In fact, gamification and social features are big with the newer platforms. And because they're very much like a game and social network, the ease of use becomes a double-edged sword that we'll avoid talking about in this post. 
(Related: FMETF: The Smart Way of Investing in the PSE Stock Market)
Still, I think this factor is an important consideration for beginners. 
Long-term stability
Of the 4 criteria, long-term stability might be the most subjective. A good proxy is certainly assets under management, or probably how leveraged they are, or profitability. But the future is never known, so I simplified my rating system based on a straightforward question: How large of an investment would I be willing to put into the platform?
Granted, all platforms on this list are legitimate companies backed by well-known players. But could I invest millions of pesos and sleep at night? Or is my limit capped to maybe a few thousand?
Availability of products and services
This criterion is about your choices on the platform. Most brokers limit your investment to US stocks, while others allow investments in non-US stocks. Newer platforms also continuously add stocks to their lists, so it's probably safe to say an older platform might have more companies to choose from. (Which isn't always a good thing, by the way.)
---
---
Pooled Funds (Local Mutual Funds and UITFs)
Convenience: Excellent
Ease-of-use: Excellent
Long-term stability: Fair
Availability of products and services: Poor
Pros
The peso-denominated options are convenient for Filipinos
Banks (UITFs) and Mutual Funds are easy to understand
Cons
High management fees are a bummer 
"Enhanced" funds add to your costs
No direct ownership of US stocks
Highlight: Have a feel for investing with these funds, but move past them as soon as you're comfortable investing by yourself through other platforms. 
The rundown
Pooled funds in this context are Mutual Funds and UITFs that invest in the US stock market. They're the easiest to buy (top-notch for convenience) and are intuitive to use. 
Examples include the BPI Invest US Equity Index Feeder Fund (Dollar and Peso-denominated options available) and the ATRAM Global Technology Feeder Fund offered by GCash through GInvest.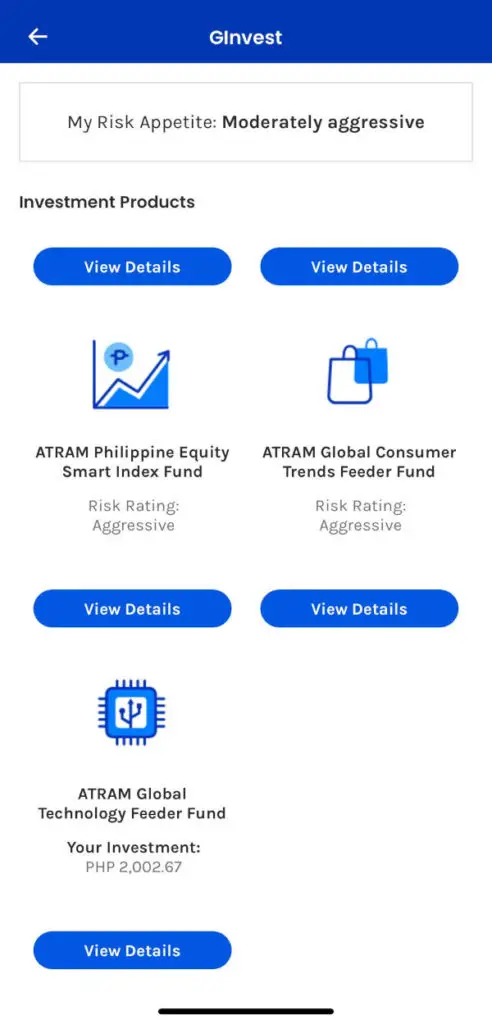 But convenience has a price. While pooled funds by local bank UITFs or Mutual Funds are a wonderful option for beginners to get started, this option has the highest fees. Pooled funds charge an annual management fee of 0.75% and upwards. (They're constantly updating their fees, so it's best to refer to the fund's website for the latest rates.)
The annual fees are a reduction in annual returns. These compound over time and the reduced returns can be of significant amounts. 
The total difference will vary based on the expected returns, the difference in management fees, time horizon, and total investment. For instance, a 1 million peso investment that returns 10% per year over 10 years, with a 1% difference in management fee, will differ by roughly 250,000 pesos by the end of the investment. That's 250k lost just by moving from a 0.5% management fee fund to a 1.5% management fee fund. 
(Past results should NEVER be your basis for selecting a fund. Some funds outperform the market by taking riskier bets. They would've done worse if the bets didn't pay off. A fund with positive returns also doesn't mean anything until it's compared, net of fees, to the index that it's tracking.)
Some options are extra convenient to open, such as GInvest via GCash and BDO UITF (online application). Since you're going to go through the hassle anyway, might as well consider the next options below with their online applications.
---
---
GoTrade
Convenience: Excellent
Ease-of-use: Excellent
Long-term stability: Poor-Fair
Availability of products and services: Poor
Open an account: GoTrade
Pros
Easy to fund; Accepts BPI, Unionbank, and GCash funding methods (as of August 2021)
The app is incredibly easy to use
Fractional trading available ($1 to invest in any stock)
Cons
The newest player on this list 
Gamification encourages frequent trading 
Highlight: GoTrade is a beginner-friendly app that allows you to actually own shares of US stocks and ETFs. If you've never tried global investing, GoTrade is a good platform to start with. 
The rundown
As the new kid on the blog, GoTrade currently has the least stocks available. But they're constantly adding to the list, so this shouldn't be an issue long term. 
What might be a concern is their long-term presence. To be clear, I'm not saying they're a scam. Far from it. The company is backed by the renowned startup incubator Y Combinator, with the proper regulatory requirements.
That said, the company is new and tiny compared to other alternatives such as TD Ameritrade and Interactive Brokers. I'd be comfortable investing a few thousand dollars, but probably not my retirement money. At least not just yet. 
GoTrade's strong point though is its user interface and ease of funding. The platform is extremely easy to use. I imagine beginners won't have a problem. (Side note: Be careful with the gamification aspect as it often leads to speculation rather than proper investing.)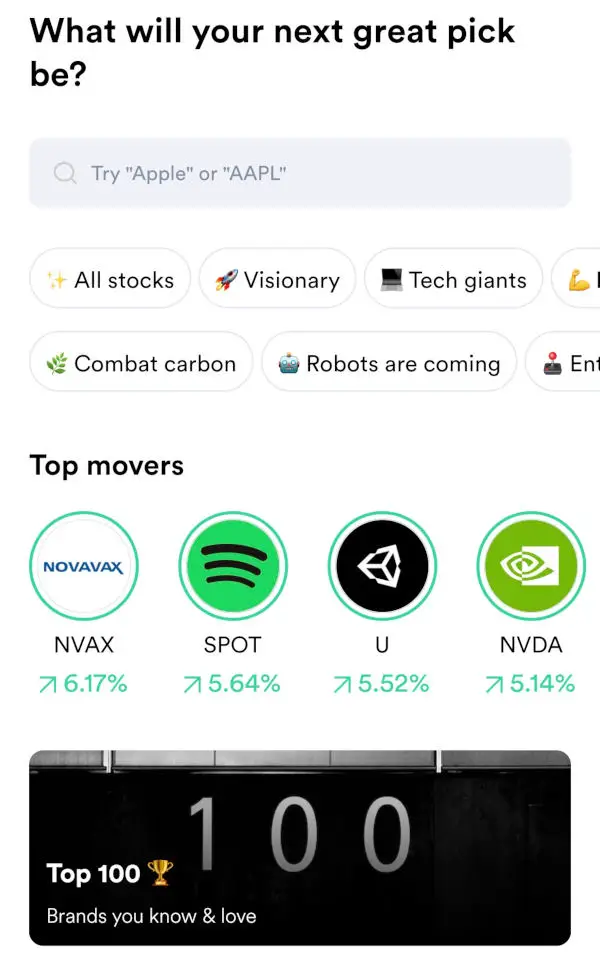 (August 2021) Current funding methods for investors in the Philippines include Unionbank (Php10 fee), BPI (Php12 fee), and GCash (3% fee). 
Another strong point is the availability of fractional shares.
Fractional shares give you the ability to invest $1 in any stock or ETF (exchange-traded fund). 
For beginners who want to give investing a shot but are worried about risking larger amounts, fractional shares let you test the waters. 
(I have a few unused invite tokens if you want to create a GoTrade account. Send me a message or comment below if you need them. As of this writing, there are no incentives or referral fees for sending invite tokens.)
Open an account: GoTrade
---
---
eToro
Convenience: Excellent 
Ease-of-use: Excellent 
Long-term stability: Poor-Fair
Availability of products and services: Fair
Open an account: eToro
Pros
Easy to fund via credit card, bank deposit, and PayPal
The platform is easy to use
The social aspect is enticing 
Cons
Social trading means blind copying of amateurs
Fairly new company 
Highlight: GoTrade's strong points also apply to eToro. Funding your account is easy (deposits from a USD PayPal account are free), and there are a plethora of available stocks and ETFs. 
The rundown
eToro is easy to use. Funding is also a breeze as they allow deposits via credit card, bank deposit, and PayPal. 
They're big on social trading where you get to see, and copy, the trades of others. (I'm not a fan of this, but it's there.)
A common slight against eToro is how trades are for derivatives called CFDs rather than the underlying US stock. While this used to be true, eToro has since updated its business model. Trades on eToro can now be on the underlying asset rather than a CFD. 
Although fractional shares are available on eToro, each US stock trade requires a minimum of $50. (With higher minimum requirements for other instruments.) Not bad, considering some US stocks cost over $50, but still not as beginner-friendly as $1 trades. 
My favorite part about eToro is how USD transfers from PayPal to their platform have zero fees! That's right, $100 deposited from PayPal is $100 credited to eToro. 
Open an account: eToro
---
---
TD Ameritrade (TDA)
Convenience: Poor
Ease-of-use: Fair
Long-term stability: Excellent
Availability of products and services: Fair
Open an account: TD Ameritrade
Pros
Established in 1975
Well-reviewed trading platform (but can be difficult for beginners)
Cons
Funding by wire transfer
No fractional shares
No Ireland-Domiciled ETFs
Highlight: TD Ameritrade is a contender that had a stronger claim prior to the recent updates with Interactive Brokers. 
The rundown
TD Ameritrade is a well-established broker in the United States. They're a prime candidate for keeping your investments safe. Established in 1975, they've since had a number of mergers and acquisitions, with the acquisition by Charles Schwab as the most recent. 
Unfortunately, at least at the time of this writing, TD Ameritrade does not have fractional shares. (The acquisition by Charles Schwab may change this soon.) But even assuming the availability of fractional shares on TD Ameritrade, the platform still lacks the ability to trade Ireland-Domiciled ETFs. (More on this below.)
TD Ameritrade used to have a more compelling case when Interactive Brokers charged a $10/month inactivity fee. But the latter's waiver of inactivity fees is a huge blow against TD Ameritrade for buying US stocks from the Philippines. 
Both options require funding by wire transfer through an account in the client's name. 
Open an account: TD Ameritrade
---
---
Interactive Brokers (IBKR)
Convenience: Poor
Ease-of-use: Poor
Long-term stability: Excellent
Availability of products and services: Excellent
Open an account: Interactive Brokers
Or, use this IBKR referral link to get $1 in IBKR Class A Shares for every $100 you deposit. Terms apply.
Pros
Established in 1978
Fractional trading available ($1 to invest in any stock)
Ireland-Domiciled ETFs
Lowest forex rates
Cons
Funding by wire transfer
Complex platform (but can be an advantage for advanced users)
Highlight: Interactive Brokers is a must-have if you want to buy international stocks from the Philippines. 
Let me preface this part by saying their referral program is not why I say Interactive Brokers is the best broker for buying US stocks in the Philippines. I recommend them because they're the best. Whether you choose to use the referral link and support this site or not, I still suggest using someone's referral link to take advantage of the free $1 IBKR Class A Shares for every $100 you deposit. See my complete review on IBKR at Interactive Brokers from the Philippines: Waived Fees, Funding, and More.
The rundown
Interactive Brokers has a lot going for them. They've been around for about as long as TD Ameritrade; they offer fractional shares like eToro and GoTrade; investing $1 is possible (good for beginners or when you prefer as little cash position as possible); cheap forex rates and fees. 
On top of these strong points, IBKR is the only option that allows Filipinos to invest in Ireland-Domiciled ETFs (also popularly called Irish-Domiciled ETFs). Ireland-Domiciled ETFs mimic many US ETFs but with tax advantages and the availability of Accumulating ETFs — all ETFs in the US are Distributing ETFs. 
(Read more at Ireland-Domiciled ETFs (Philippines): Optimizing Your Global Investments)
Fun fact: IBKR used to require a $10,000 balance to open an account. 
My only gripe is the cumbersome and expensive funding method, wire transfers. Lots of reviews suggest funding via Wise (TransferWise) or through relatives/friends in the US. These are actually unsupported funding methods that may or may not work. (This information is based on my email exchanges with two separate representatives.) I think it could work, as there are a lot of people vouching for the workaround. But my goody-two-shoes self can't risk it. 
Open an account: Interactive Brokers
(Or use this Referral Link to get $1 in IBKR Class A Shares for every $100 you deposit.)
---
---
What is the best way to buy US stocks from the Philippines?
The answer to this question lies in the investor's circumstances: GoTrade or eToro for ease-of-use plus convenience, and Interactive Brokers for exceptional stability and product options. 
For beginning investors who've yet to develop the comfort of investing in anything, GoTrade and eToro are decent platforms. Both are easy to use. eToro has had a running start, so it currently offers a few more stocks to choose from. They're both relatively new though. If that's an issue, then consider the more established options on this list. 
But if you don't mind the hassles and fees of funding by wire transfers (some banks allow online processing of wire transfers) and are willing to put a little bit of effort into understanding a platform, then Interactive Brokers is hands down the way to go. They have been around since 1978, have the best forex rates, offer fractional shares, and allow Filipinos to invest in tax-advantaged Ireland-Domiciled ETFs. 
Final say? I use all 3: GoTrade when I have extra pesos to invest in US stocks from the Philippines/Philippine bank accounts. eToro whenever I receive US Dollars, or when a specific listing isn't on GoTrade. And Interactive Brokers for a bulk of my non-Philippine investments, or when my GoTrade and eToro accounts reach a certain threshold.
---
---
This post and the contents on this site are for informational purposes only. Please do your own research and act as you see fit.
This post may contain affiliate links. You can read my affiliate disclosure here, Terms & Conditions, #6 Links.
---