---
Interactive Brokers (IBKR) recently released a radical announcement that's sure to rock the investing community in the Philippines and elsewhere. The views against IBKR as a platform have mostly been due to its inactivity fees. It's predominantly seen as a superior platform for its size and availability of investments. But investors had to pay a minimum of $10.00 a month, deductible against commissions when trading, and so mattered less for traders. For long-term investors though, this was a huge letdown.
Last week (July 2021), IBKR announced a new fee structure with zero inactivity fees. For investing in international stocks, does this make Interactive Brokers the best trading platform in the Philippines?
It certainly has strong claims at being the best brokerage for international investing for Philippine residents. The selection of investment products, the wide array of available exchanges globally, and the stability of the company all help Interactive Brokers' contention as the best international platform for Filipinos. 
Here's how you can open an account as a resident of the Philippines and some functionality setup tips. 
(Disclaimer: These are my experiences using the IBKR platform but I am not, nor do I claim to be, an authority. Please feel free to let me know if there are changes that need to be made to this post. Your feedback helps everyone!)
---
---
What is Interactive Brokers (IBKR)?
Can you trust Interactive Brokers? 
Interactive Brokers is a brokerage firm headquartered in the United States and its common stock is listed on the Nasdaq exchange with the ticker IBKR. Client equity based on IBKR's Monthly Brokerage Metrics hovers over $300 billion, and the company has been in existence for over 40 years.
In other words, it's a very large and stable company. If you trust a local brokerage with your stock investments, I see no reason not to trust Interactive Brokers. 
In fact, it has been the brokerage investors aspired to have. IBKR used to require a minimum investment of $10,000 — but the account minimum for the IBKR Pro has been zero for quite a while. Interactive Brokers' main advantages as a platform are its pricing, advanced platform, and selection of securities. While the main drawback for residents of the Philippines is the funding of accounts. We'll get to this in a bit. 
See The IBKR Advantage on Interactive Brokers' website. 
Available investments for Interactive Broker clients
The link to Interactive Brokers' product listings is here. But in case of shifting URLs and dead links, here's a screenshot of IBKR's offerings. And their collection of available investments is huge!

Stocks are there as you'd expect. But they also allow trading fractional shares, ETFs, derivatives, fixed income, and metals, among others. The platform also allows you to trade Global Exchanges, including Europe and the Asia Pacific. 
Some products, such as options, are probably too complex for the average investor, and IBKR controls this by enforcing permissions to trade. For example, my account is prohibited to trade precious metals. If I wanted to, I'd need to request trading permissions and have the necessary experience. 
Here are screenshots of product listings I am both allowed and not allowed to trade:
The experience column is filled out by the user. For instance, I am not an active trader so you'll see "1 – 10 Trades per Year" under experience. IBKR uses this information to assess your qualifications to trade particular securities. 
Fractional shares
Many alternatives to Interactive Brokers have boomed in popularity due to the availability of fractional shares. 
What are fractional shares? According to IBKR: 
"Trading fractional shares allows you to invest in companies which you may not be able to afford the full share price… For example, if you want to spend $500 but one share of the stock you want to buy is currently $1000 you would end up with 0.5 shares."
This is particularly important for stocks like Google and Amazon, with stock prices in excess of thousands of dollars. At the time of this writing, Google's stock (NASDAQ: GOOGL) sells at $2,539.51 and Amazon (NASDAQ: AMZN) sells at $3,718.55 per share. 
That's approximately Php127,000.00 and Php186,000.00, respectively, for one single stock.
How do you trade fractional shares on Interactive Brokers?
Fractional shares need to be activated on IBKR. Follow these steps to activate yours:
Change your account settings under Manage Account: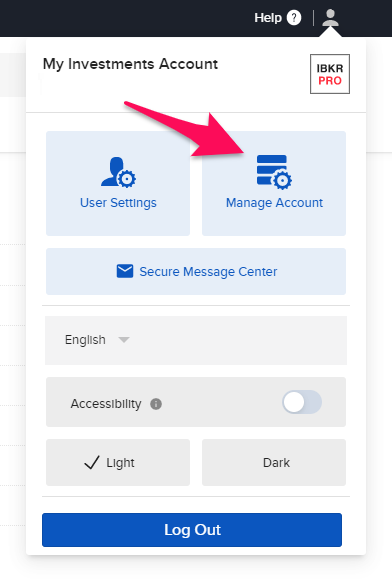 2. Scroll down to Trading Experience & Permissions and click on the gear icon.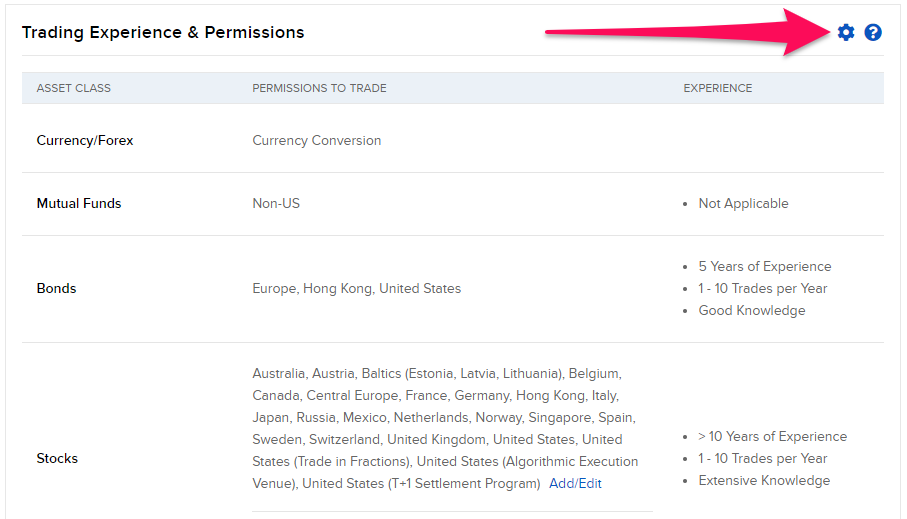 3. Go down to Stocks and add "United States (Trade in Fractions)"

Access to trading permissions is also available via Trader Workstation, Interactive Brokers' downloadable desktop app for trading.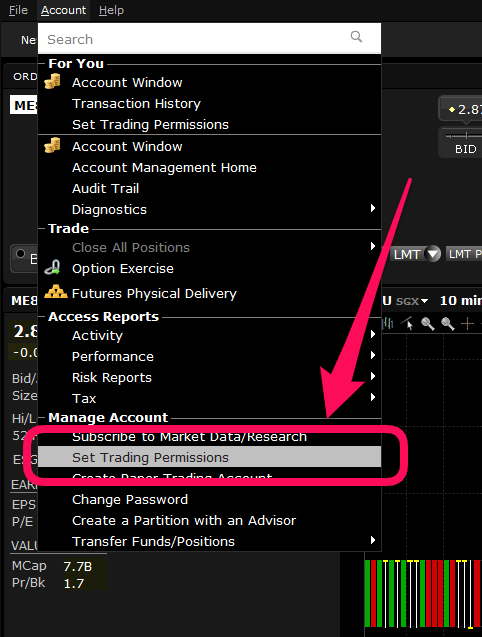 Other relevant fees
Rather than rehashing the information here with little added value, you may refer to the following links on IBKR's website:
Click on the investment and location to know which fees apply.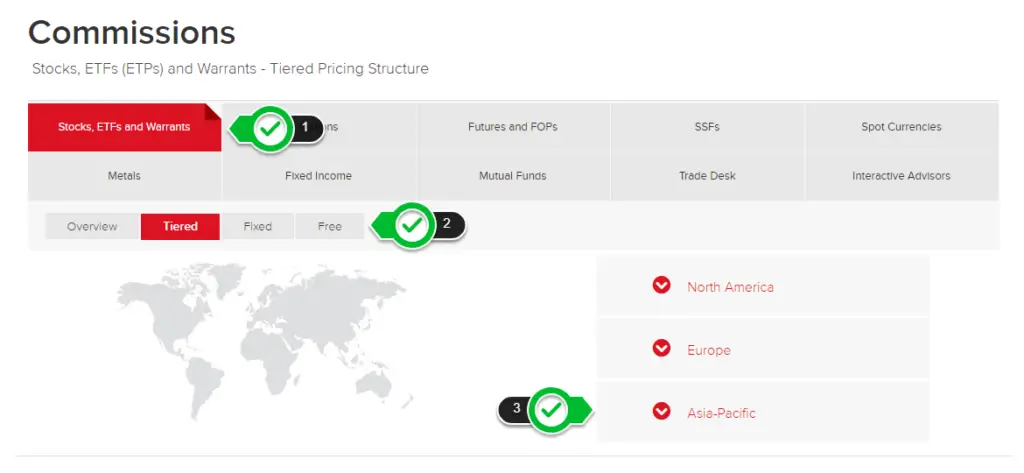 (Related: Make Money Trading Stocks? The Advice You Didn't Want to Hear)
---
---
How to open an account with Interactive Brokers from the Philippines
Is Interactive Brokers available in the Philippines?
The Philippines is part of Interactive Brokers' list of Available Countries and Philippine residents may readily use the trading platform. Requirements are sent via IBKR's website.
For individual accounts (i.e., non-trust, non-joint, non-advisor, etc.), have the following requirements ready:
Name
Address
Date of Birth
Citizenship
Tax Residency and ID Number
Employer name and address
Information on assets and income (You'll need to provide your annual net income, net worth, and liquid net worth.)
Investment objectives and experience
Bank or 3rd party broker account numbers for funding purposes
The following process is specific to individual investors or traders. This is an important distinction because IBKR also allows accounts for family offices, small businesses, friends/family advisors, registered advisors, mutual funds, educators, and many more.
Start your application
The following link is part of Interactive Brokers' refer-a-friend program that benefits both referring clients (me) and referred clients (you). 
Should you choose to support this site by using the link, you will receive $1 worth of Class A common stock of Interactive Brokers Group, Inc. for each $100 deposited to your account. I may also receive a commission when you maintain at least $10,000 in your account for one year following the opening of your account. 
I recommend using someone's link, whether it's mine or not, just for the added benefit of getting IBKR stocks from deposits you would've made anyway.
The terms and conditions of IBKR's refer-a-friend program is here: https://ndcdyn.interactivebrokers.com/Universal/servlet/Registration_v2.formSampleView?formdb=4051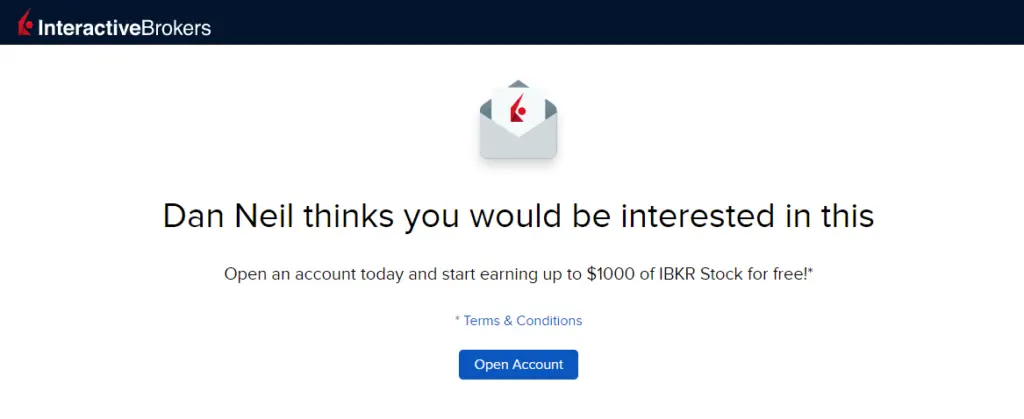 Click "Open Account" to begin your application process and follow the succeeding steps. (Don't forget to have your requirements ready.) 
How to fund your Interactive Brokers account from the Philippines
Interactive Brokers allows 4 methods of funding USD accounts. (The available methods are based on the currency you're depositing.) For residents of the Philippines, the only available option, if I'm basing my information on the response emailed to me by customer support, is Bank Wire. 
That said, there are workarounds described by some (e.g., TransferWise, PETNET by Unionbank, etc.), and conflicting but possible viable solutions explained by others (e.g., Paypal, Payoneer, etc.). I've yet to try any of these solutions. Please let me know if you have had success with any of these methods. 
(Update, September 2021: Wise, formerly known as TransferWise, surprisingly worked for me. I believe IBKR's issue with these 3rd party services is the potential mismatch in the client's name between IBKR's records and the service provider's. Maybe test yours out with a smaller amount, just to be sure.)
---
(Update, August 2021: This is IBKR Support's response.)
Please note that IBKR does not support digital banks when the bank is based as a digital wallet or payment processor. IBKR does not recommend sending funds from a payment processor as funds are usually sent without the payment details or sufficient information. This can lead, in most cases, to the rejection of the payment. IBKR always recommends sending funds from a bank account in your name.

The following are not supported: Citibank Global Transfers, Instarem, MoneyGram, PayPal, Paysera, Revolut, Skrill, Western Union, WorldPay and Online Peer to Peer payment systems (e.g., Venmo, Google Wallet, Zelle, Neteller, QuickPay & Square Cash). Please note, cash deposits must be initiated from a bank or broker account in the client's name.
While it is possible to deposit funds from Transferwise money transmitter, the transfer would need to meet the following conditions:
1. The funds would need to originate from an account titled the same as the IBKR account;
2. The deposit payment details would need to include your account ID and title.

Based upon prior experience, Transferwise generally does not include the required information in the payment details and, if this is the case, the funds will be returned as unidentified.
---
Deposit from family and friends in the US
Another workaround I often hear about is to have a family member or a friend from the States deposit on your behalf. IBKR's response to me was clear:
Third-party deposits are defined as those deposits which originate from or are drawn upon an account at a financial institution (that) is titled in a name other than that of the receiving account holder(s). As third-party transfers have historically been viewed by the financial services industry and its regulators as being highly susceptible to acts of fraud and money laundering, they are strongly discouraged and, in most instances, rejected by IBKR. Please note that funds have to come from a bank account in your name and from a bank located in the country of your legal residence. 
I'm sure others have had success. I go with what's unmistakably Interactive Brokers' expected funding method but would love to explore other effective workarounds. Let me know in the comments!
Here are the steps to "How do I fund my Interactive Brokers account from the Philippines?"
Step 1: Look for the "Deposit" button under "Home"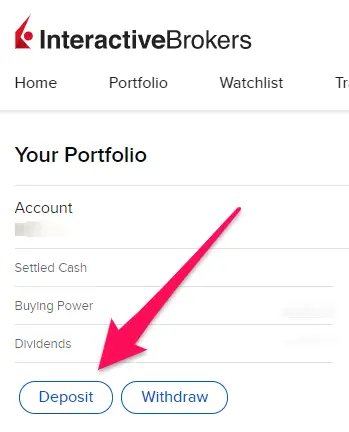 Go to the home tab of your Interactive Brokers account and find the "Deposit" button.
Step 2: Search for "Bank Wire" and select "Get Instructions"

Scroll down to the "Bank Wire" section and click on "Get Instructions."
Step 3: Fill out the succeeding form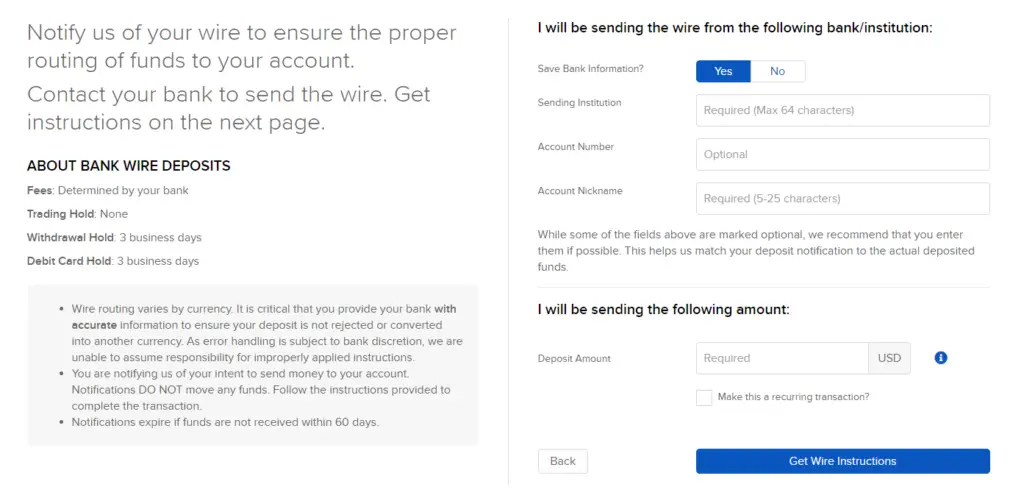 You will need the following information: (1) Sending institution, (2) Account number, (3) Account name, and (4) Deposit amount. 
Step 4: Get wire instructions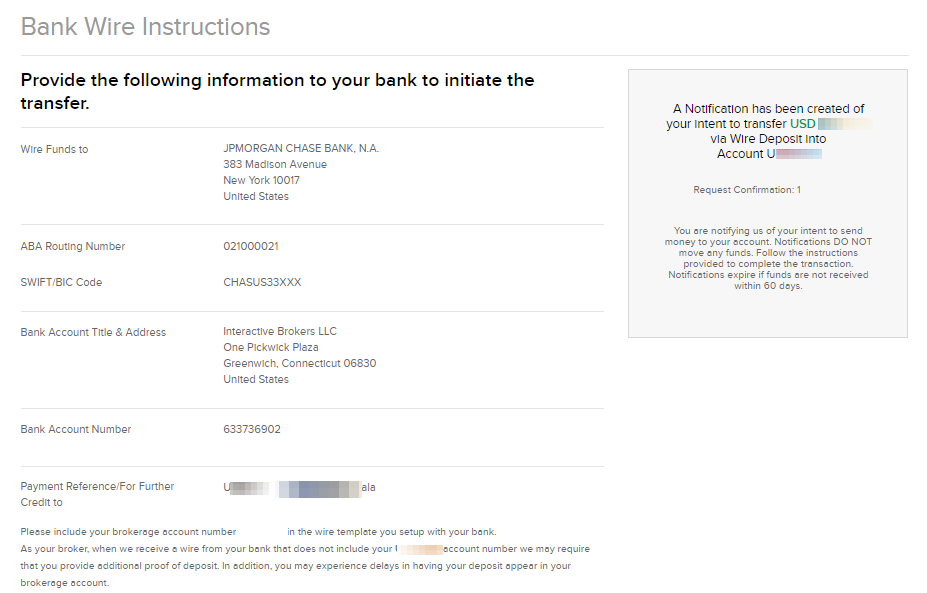 Save a screenshot for your reference. 
Step 5: Provide the bank wire instructions to your bank
This last step will depend on your bank. My experiences are with BPI and BDO, but other banks should have a similar process. A USD account is necessary to proceed. 
(I've heard Unionbank's PETNET doesn't require a USD account for funding. Not sure though how IBKR takes it. See their customer support's response quoted above. Again, if you have had success, please share it in the comments.)
Bank of the Philippine Islands (BPI)
For wire transfers with BPI, you'll need to visit a branch and ask for the Outward Cross-Border Remittance form. (Or request a copy from your relationship manager.) Fill out the details based on the Bank Wire Instructions specified in Step 4. 
Relevant fees apply. See BPI's Outward Cross-Border Remittance Fees and Charges.
Banco de Oro (BDO)
BDO allows wire transfers via BDO Internet Banking. The online transaction is actually just a request to transfer. The actual transfer is processed by personnel. So it's basically the same process, except the remittance form is available through their website.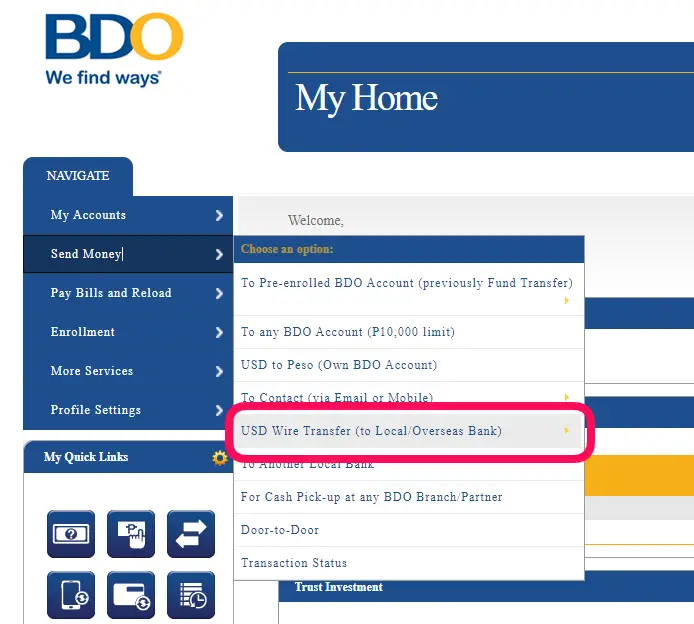 (There is no minimum deposit for Interactive Brokers accounts from the Philippines, but do note the potential savings from investing larger amounts at fixed fees.)
---
---
Conclusion: Interactive Brokers (Philippines)
Some of us have lived long enough to witness the amazing transition from manual stockbroker calls to today's highly efficient processes. This recent update from Interactive Brokers manifests how things are only going to get better.
International investing used to be the territory of high net worth individuals. But with user-friendly platforms like eToro coming along, well-established alternatives like TD Ameritrade and Interactive Brokers have stepped up.
When you consider the stability of the company, the possibility for true global investing, and the competitive pricing (and especially the recently announced removal of inactivity fees), it's hard to argue against Interactive Brokers. The last remaining drawback is the relatively inconvenient funding method. But in time, I'm sure this, too, will be a wrap. 
---
---
---